Craig Richardson on "Renovating the worst house on the best street
Tuesday, May 8, 2012 from 5:30 PM – 7:30 PM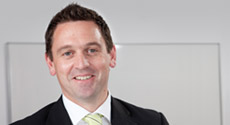 An evening with Craig Richardson Director of Jade Software and CEO Wynyard Group.
In late 2010 Jade Software Managing Director Craig Richardson discovered his technology company was the "worst house on the best street"
In two short years, during a period of unprecedented global financial crisis, the company has redesigned, renovated and innovated its way to the very forefront of the international fight against threats, crime and corruption. It's newest venture launched in March 2012 – Wynyard Group, has more than 2,000 customers in 80 countries with solutions already ranked in the top 3 globally by technology research firms. Craig will give a deeply honest account of the successes, the mistakes, the risks and rewards of leading one of New Zealand's most exciting new businesses ventures.
Craig Richardson joined Jade Software as Managing Director in 2009 and became CEO of the company's global security and intelligence business, Wynyard Group, when launched in 2012. Prior to Jade, Craig was Chief Financial Officer for the Pacific operations of ASX-listed companies Coca-Cola Amatil and BlueScope Steel. Craig has also held senior executive roles in finance, strategy, planning and operations with Vodafone Australia, Vodafone Sweden, SingTel Optus and BHP. An outstanding opportunity to spend an evening with one of New Zealand's true technology leaders on the global stage.